Environmentally Friendly LED Solar Dusk To Dawn Light
The all-in-one design combined with the latest in lighting technology makes these LED solar dusk to dawn security lights a class leader when it comes to protecting your immediate environment.
The high power solar panel used in the LED solar dusk to dawn security lights offer 8-10 hours of continuous light off one full charge giving out a powerful light when the built-in motion detector senses movement within the range of the premises.
The solar LED dusk to dawn light only illuminates at night. At nightfall the solar light comes on in dim mode and remains in dim mode until motion is detected and then the LED light comes to full brightness for 30 seconds. The LED technology, combined with the motion detectors, also make these commercial solar powered street lights an affordable, low maintenance option for businesses and private households.
Solar Street Lights Outdoor
With their waterproof design and wireless, all-in-one kit, these solar street lights can be quickly and easily mounted anywhere outdoors to provide adequate lighting for the street below, no matter what the weather.
Solar LED Street Lights for Pathways
Keep pedestrians safe near your premises with the ergonomic motion sensors detecting movement and providing light throughout the night. The LED solar area lights provide an affordable alternative to constant lighting, with the additional benefit of little to no maintenance
Solar Powered Street Lights for Retail
Boost the security of your store and provide lighting for customers in your car park or immediate street with LED solar dusk to dawn security light that lights up when movement is detected.
Order the Solar LED Street Lights today for a modern, efficient LED light that only powers up when required, providing security to your home or business premises at an affordable cost.
3 to 5 NIGHTS CONTINUOUS CHARGE: built-in 8800mAh large capacity lithium battery. On a full charge, the battery lasts for about 8-10 hours in bright mode, and rated for >35 hours of use in dim mode.
AUTOMATICALLY TURN ON/OFF: A night sensor and a motion sensor come pre-installed so when MOTION is detected, the light powers at full brightness and then becomes dim again if the object is out of detection range.
EASY INSTALLATIONS, NO ELECTRICAL BILLS: solar powered led street lamp, can be mounted on wall or pole (diameter 1 to 2.7 inch, mounted height 11.5 to 16.4ft) in direct sunlight for charging.
5 YEARS WARRANTY, SUPER BRIGHT: from 1000 up to 5000 lumens, lighted by multiple ultra bright LEDs; long life battery; high quality solar panel; IP65 waterproof; great heat dissipation.

INTEGRATED DESIGN: LED solar fixtures can be used as area lights, street lights, wall lights, driveway lights, parking lot lights, security night lights, patio lights, flood lights or yard lights.
LED BUY AND TRY PROGRAM
Our LED buy and try program provides our customers a 100% risk free, way to test any LED before making a larger purchase.
Are you thinking of switching to LEDs but not sure if the LED will work for you? No problem! Buy a few pieces of
what you need to test and then send back what you don't like or purchase more if you do like. You can return any
LED bulb or fixture within 14 days of receiving it for a full refund, including the original $8 shipping charge.
You will only incur the cost of returning the items to us. Our buy and try program is limited to LED orders under $200 so if you are involved in a larger project please contact us at 1-800-432-7995 or email us sales"at"superiorlighting.com.com prior to placing your order. We will gladly find a way to help you test some items prior to purchasing large quantities. All items returned, must be returned in original manufacturer packaging, and in the same condition that they were received.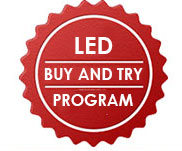 WARRANTY CLAIMS & RETURNS
Our goal is your 100% satisfaction with every order! No hassle 14 days returns.
We stand behind the products we sell. If for any reason you are not satisfied with a purchase you may return a product within 14 days of receiving it. Please inspect all products upon receipt. If an item arrives broken we will make arrangements to either refund or replace the item for you. Warranty claims can be filed within the stated warranty period of the item. Please contact customer service at 1-800-432-7995 or email help@superiorlighting.com to receive a return or warranty claim authorization.
PLEASE DO NOT SHIP ITEMS BACK TO US OR TO OUR MANUFACTURERS WITHOUT PRIOR AUTHORIZATION!
Custom orders, Color Kinetics items, large contract jobs (over $1500) and parts cannot be returned. Please click here for our complete return policy.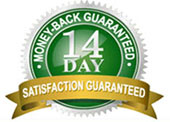 SHIPPING RATES
$9.95 Flat Rate on all ORDERS!
Orders outside the 48 contiguous United States
Additional shipping and handling charges will apply to orders shipped outside the 48 contiguous United States (including Alaska, Hawaii and other U.S. Territories).
Please Contact Us if you are placing an order outside the Continental US and we will advise you of the shipping charges to that destination.