Our Plastic Globes are of the highest quality acrylic that does not yellow over time The globes are available in clear, white and smoke color. in sizes ranging from 8 inches to 22 inches in diameter with neckless openings. Please select one of the sizes and colors below that matches the globe you need to replace.

How to measure size of opening:
Take globe off of pole or fixture.
Determine if your globe is neckless (A) or with a lip (B)?
Measure the height of the globe by sticking a tape measure through the opening down to the bottom.
Measure the width of the opening across the top.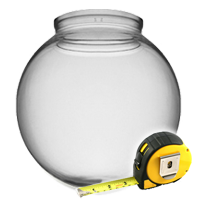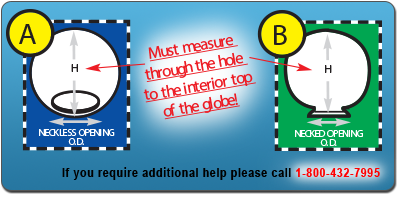 Plastic Globes Round Neckless
** WARNING: Smoke color is a dark transparent grey color. The ones you are replacing may be a lighter smoke color from the sun bleaching the globe over a prolonged period of time. **
Buy Round Neckless Light bulbs from Superior Lighting at wholesale prices. Street lamp globe indoor and outdoor decorative lighting fixtures from Progress Lighting and Dabmar Lighting at discount prices from Superior Lighting.