Compact Fluorescent Light Bulbs
We have a huge variety of Compact Fluorescent Screw In Spirals, CFL Plug In (2-4 pin), CFL Reflectors,
Decorative Capped CFLs, Compact Fluorescent GU24 Spirals, Shatter-Proof CFLs, Wet Location CFLs,
Colored CFLs and Dimmable CFLs.
CFL Bulb Styles

Tube in a spiral shape which has similar outside shape and light casting qualities to a standard incandescent light bulbs.They're the least expensive and most versatile CFL option.
Globes are used in vanity mirrors, bathroom fixtures or open bulb applications. The size of these bulbs may limit the places they could be put to use.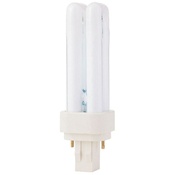 Straight tube plug in are the pin-based CFL versions that are used in commercial fixtures. They come in 2 and 4 pin varieties with different base configurations. Plug In pack high light output into a small space and require a wattage specific ballast. Wattage cannot be changed without changing the ballast.

Screw-in torpedo-shape CFLs come in both medium and chandelier base sizes. The small size of this bulb is designed for smaller light fixtures from chandeliers to sconces. Candelabra CFL are an excellent choice for energy saving light bulbs in many commercial and residential light fixtures.

Standard A-Line are designed to give the appearance of the traditional light bulb. A-Line provides a quality of light similar to the 'soft-white' type of incandescent bulbs.

Flood and Reflector CFL are designed to be ideal for recessed and track lighting fixtures indoors and outdoors.
CFL Base Styles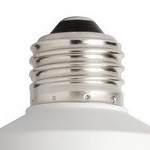 This is the standard edison style base like those found on incandescent light bulbs.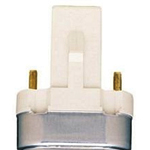 Plastic bases with two or four pins designed to be used with a separate ballasts that are mounted in the fixture.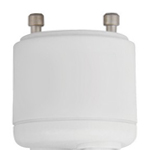 Replacement for the edison socket and base to match the newest Energy Star requirements.

If every American home replaced just one light bulb with an ENERGY STAR qualified bulb, we would save enough energy to light more than 3 million homes for a year, more than $600 million in annual energy costs, and prevent greenhouse gases equivalent to the emissions of more than 800,000 cars.
Buy Compact Fluorescent