LED Flat Panel Ceiling Lights: What Makes It the Best Choice for Your Retail and Office Space
May 3rd 2017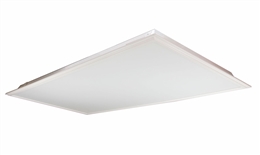 If you've ever tried on clothes in a dressing room at a retail store, then you probably know just how magical lighting can be. Lighting in retail stores, grocery stores, and office settings can impact the decisions we make, our moods and abilities to concentrate, and our stress levels. LED lighting, however, can boost moods, reduce stress levels, and influence the effectiveness and efficiency of students at school and employees at work. Here's why LED flat panel ceiling lights are the best option for retail stores and office spaces:
Substantial Light Coverage and Instant-On
One thing that is unwanted in retail and office settings is dim-lit space. Employees must be able to see what they're doing so they can do their jobs and shoppers need to properly see items for sale in stores in order to make conscientious purchases. Moreover, work environments can be stressful on their own—the added stress that comes from too bright and glare-y lights is not needed in already likely stressful settings.
LED flat panel ceiling lights provide substantial light coverage without being too bright or glare-y, which cannot be said for other types of flat panel ceiling lights. The high CRI of flat LEDS is ideal for places where natural color rendering is essential, like retail stores. Additionally, LED flat panel ceiling lights are instant on. There is zero warm up time, which is a great for security and energy saving purposes.
Make Flat Panel Lights What You Need Them To Be
LED flat panel ceiling light fixtures are designed to replace existing fluorescent flat panel ceiling light fixtures. The fixtures suspend in grid ceilings or can hang from hooks. There is a wide range of color temperatures available for LED flat panel lights, including: warm white, natural white, and daylight colors. There are also a number of sizes offered, like: 2-feet by 2-feet and 2-feet by 4-feet. This means it's easy to make LED flat panel lights right for your space.
These LED flat panel light fixtures are energy-efficient, long lasting, and virtually maintenance free—they're LEDs! Superior Lighting suggests additional energy-saving solutions, like dimming and timers. We can assist you with choosing which LED flat panel ceiling lights are ideal for your location and application. Furthermore, we can help you design the layout of the lights to create the best environment in your office or retail setting.
Superior Lighting's LED Flat Panel Drop Ceiling Light Fixtures
Check out Superior Lighting's supply of LED flat panel ceiling lights on our website today. You'll find a variety of flat panel light fixture options, like our LED Flat Panel Drop Ceiling Light Fixture starting at just $89.00. Choose between our 2-feet by 4-feet, 50-watt light and our 2-feet by 2-feet 40-watt light. Colors available include: Warm White, Natural White, and Daylight.
Illuminate Your Office or Retail Space With Flat Panel Lighting From Superior Lighting
Visit Superior Lighting's website today to view our selection of LED office light fixtures and LED retrofit lamps. If you have questions or would like to speak to one of our knowledgeable lighting professionals, then give us a call at 1-888-577-1894 or fill out our online contact form.