Increase Safety With Shatterproof LED Light Bulbs, Ideal for Warehouses and Commercial Buildings
May 2nd 2017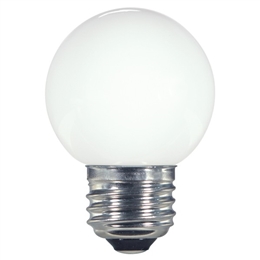 A lot happens in and around warehouses and commercial properties: There's a lot of stocking boxes, setting up and moving displays, preparing and weighing shipments, etc. Every day there is a potential risk of danger, especially when big or heavy objects are being moved and heavy machinery is being used. Safety is of upmost importance.
You might not think light bulbs have much to do with safety, but light bulbs strongly influence the safety and efficient operations of buildings like warehouses and commercial locations. For example, if a light bulb breaks and glass is all over the floor, then this is a safety hazard; If a light bulb burns out and is not replaced soon, then the area of the building not illuminated properly could pose potential danger; And, if a light fixture gives off too much glare, then this can negatively impact the vision of workers and cause mishaps.

Here's How LEDs Increase Safety
First things first: LED light bulbs last a long time, are shatterproof, and do not have glare.

LEDs Last a Long Time

The average estimated lifespan of LED light bulbs is 50,000 hours. LED light bulbs are virtually maintenance free because of their longevity and this means replacement is not required as often as other light technologies. Climbing a ladder or being raised in a lift to replace burnt out light bulbs takes time and it is always a potentially dangerous task. The danger is reduced when the task is not required as often.

LEDs are Shatterproof

The design and production of LED light bulbs has come a long way. Although we do not carry completely unbreakable LED light bulbs, our shatterproof LED light bulbs are better than other light options because when the LEDs drop to the ground there is no shattered glass mess to pick up. Additionally, LEDs don't contain mercury like other light bulb options so if an LED bulb does break there are zero nasty toxins inside that might leak out.

Zero Glares

Glare is usually not very welcome in any kind of setting, right? But in places where manual labor is a common occurrence, glare is simply not wanted and it can be dangerous if it's there. To create an environment with absolutely zero glare, it's important to pay attention to the light bulbs purchased and the layout of how the bulbs are placed in the vicinity.

Superior Lighting can help you pick out the perfect LED light bulbs for your specific lighting applications. Moreover, Superior Lighting can help you create an effective layout in your building for the light bulbs and fixtures you purchase.

Illuminate Your Warehouse or Commercial Building With Shatterproof LED Light Bulbs From Superior Lighting
Visit Superior Lighting's
website
today to view our selection of LED light bulbs and light fixtures. If you have questions or would like to speak to one of our knowledgeable lighting professionals, then give us a call at 1-888-577-1894 or fill out our
online contact form
.