5 Ways to Lower Warehouse and Commercial Building Operating Costs
Mar 16th 2017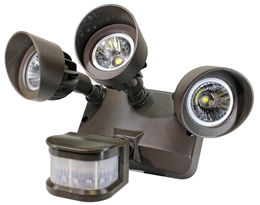 Of the many commercial buildings in the United States, many are warehouses, and as time moves forward and warehouses become more and more sophisticated, the amount of energy consumed by warehouses upsurges. This means the cost to operate such buildings rises as well, and this is not to mention gradually increasing energy prices in general.
To reduce operating costs in warehouses and other commercial buildings, lighting is a priority target, because lighting accounts for approximately 41% of total energy consumed in these types of buildings (light and heating alone account for 64% of energy consumed).
By shifting focus to energy management, warehouses can successfully reduce operational costs, and simultaneously improve facility operations and diminish climate impact.
Implement these 5 steps and energy consumed by your warehouse can be reduced by as much as 50%:
1. Adopt Modern Light Technologies
Metal Halide light fixtures are typically the go-to light options for high bay lighting applications in commercial settings; however, you can cut operational costs at your warehouse by getting rid of conventional Metal Halide and Fluorescent light fixtures and replacing them with LEDs.
LEDs use less energy to create the same amount of light, produce superior color rendering, and have better uniform light distribution. LEDs are instant on and compatible with many lighting control options.
Exit Signs & Emergency Lights
LED Exit signs use a fraction of energy required for compact fluorescent and incandescent lamps. Also, LEDs last for up to 10 years, which saves money on maintenance requirements.
2. Use Lighting Controls
The quickest way to reduce energy consumption at a commercial location is to turn off equipment when it's not needed. Reduce operating costs at your warehouse by installing lighting controls, such as:
Scheduling
Occupancy sensors
Daylight harvesting
Bi-level switching
Dimming
For exterior lights, install photo-sensors to activate lamps when daylight diminishes. Put motion sensors in locations that are not used frequently.
3. Take Advantage of Daylight
Assimilating natural light into your warehouse's structure can reduce energy costs drastically, because it lowers the necessity for light fixtures and it improves employee morale. Therefore, consider using skylights at your warehouse location.
4. Maintain Light Fixtures
One way to keep energy costs low, and one that is often overlooked, is simply maintaining light fixtures. Clean and replace lamps on a fixed schedule, because this ensures full-light output and avoids dust and dirt build-up.
5. Seek Outside Assistance
Whether you are building a new warehouse or you are trying to reduce energy consumption and costs at a pre-existing warehouse, you can achieve energy-efficiency by implementing the above 4 steps. If you are unsure of how to approach the design of light fixtures in your warehouse, then consider seeking outside assistance—for example: pursue a Leadership in Energy and Environmental Design (LEED) certification. Learn more about it on the U.S. Green Building Council website.
Or, reach out to Superior Lighting.
Reduce Warehouse Costs With Superior Lighting
Visit Superior Lighting's website to view our full selection of LED light fixtures, which includes: high bay light fixtures, Exit signs and emergency lights, exterior lights, and more.
Reach out to our knowledgeable and professional team by calling us at 1-800-545-7778 or fill out our online contact form. We can help your warehouse achieve energy-efficiency and reduce its operating costs today.