2 Reasons to Upgrade Your Commercial Property's Exterior Lighting to LED Flood Lights
May 3rd 2017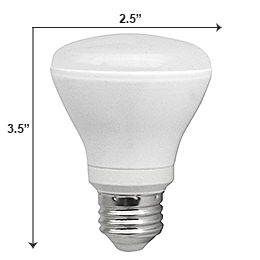 At commercial property locations, like shopping centers and big box stores, floodlights are installed for security purposes and to accentuate specific areas of buildings and other structures. When the sun sinks away the floodlights at these locations are switched on and the lights usually stay on until the sun rises up again. What consumers of floodlights require is bright and substantial illumination. It doesn't matter what's being illuminated (that's up to them), but consumers typically want to purchase affordable light fixtures that do not cost a fortune to operate.
LED floodlights are ideal for commercial property exterior lighting applications, because LEDs are bright, long lasting, and provide amazing light coverage. There are also many floodlight designs, wattages, and color temperatures to pick from. Here are 2 reasons why you should upgrade your commercial property's exterior lights to LED floodlights:
High Lumens = Lower Energy Costs
You probably hear this all the time: LEDs are energy efficient. The reason why LEDs are considered extremely energy efficient is because they use less wattage (energy) to produce the same level of lumens (brightness) as other light technologies. This means, with LED floodlights, you can get the brightness you need and spend less money on operating costs.
Superior Lighting carries a wide range of LED floodlights. Whether your lighting application requires a 10-watt LED Bullet Floodlight or a 300-watt Heavy Duty Floodlight, we have what you need.
Great Coverage For Different Lighting Applications
Floodlights can be used at commercial properties to illuminate parking lots, walls, dark alleys, displays, signs and structures, etc. There are a variety of LED floodlight styles available. Replace your current floodlights and other exterior light fixtures with energy-efficient and virtually maintenance-free LED floodlights today!
Improve Sense of Security
Parking lots, corners the light can't reach, and alleyways can be pretty scary at nighttime. With bright LED floodlights that deliver substantial coverage to every hard-to-reach corner, it's simple to hype up the security at your commercial location. Store employees and consumers can feel safer in the vicinity of the building at night and floodlights can deter potential troublemakers from doing anything felonious.
Mounted Displays
Malls always have interesting structures and displays outside their doors, like: blow-up holiday decorations or unique pieces of art. With floodlights, it's easy to illuminate it all. Check out Superior Lighting's unique selection of floodlights to determine which light is best for the displays outside your commercial location.
Coverage For Buildings
It's often necessary to illuminate the outside of buildings, like walls and doors, because people need to know where they are going at night. Floodlights are the perfect way to brighten up walls and doorways, in addition to dark areas surrounding a store.
Illuminate the Exterior of Your Commercial Property With LED Floodlights From Superior Lighting
Visit Superior Lighting's website today to view our selection of LED floodlights. If you have questions or would like to speak to one of our knowledgeable lighting professionals, then give us a call at 1-888-577-1894 or fill out our online contact form.