What is new with HID bulbs?
WHAT IS NEW WITH HID BULBS?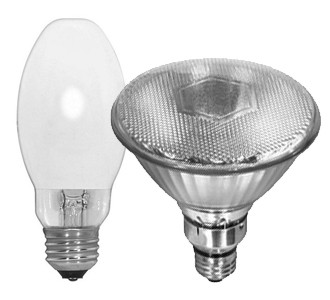 Effective January 1, 2009 lighting fixtures manufactured for operation of metal halide lamps greater than 150 W but less than 500 W must contain:
Minimum Ballast Efficiency
Pulse-start Metal Halide Ballast = 88%

Magnetic Probe-start Ballast = 94%

Electronic Ballast (not pulse-start) = 90% if <250W or 92% if >250.
Fixtures with regulated leg ballasts

Fixtures that use electronic ballasts that operate at 480V

Fixtures rated only for 150 W lamps, for use in wet locations, and contain ballast rated to operate at ambient are temperatures above 50 degrees Celsius.
Mercury vapor ballasts have been discontinued.