What are Metal Halide Light Bulbs?
WHAT ARE METAL HALIDE LIGHT BULBS?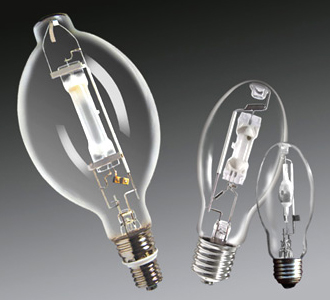 A metal-halide lamp is an electric light that produces light by an electric arc through a gaseous mixture of vaporized mercury and metal halides[1][2] (compounds of metals with bromine or iodine). It is a type of high-intensity discharge (HID) gas discharge lamp.[1] Developed in the 1960s, they are similar to mercury vapor lamps,[1] but contain additional metal halide compounds in the arc tube, which improve the efficiency and color rendition of the light.

Metal-halide lamps have high luminous efficacy of around 75 - 100 lumens per watt,[2] about twice the efficiency of mercury vapor lights and 3 to 5 times that of incandescent lights,[1] moderately long bulb life (6,000 to 15,000 hours)[2][3] and produce an intense white light. As one of the most efficient sources of high CRI white light, metal halides are the fastest growing segment of the lighting industry.[1] They are used for wide area overhead lighting[2] of commercial, industrial, and public spaces, such as parking lots, sports arenas, factories, and retail stores,[1] as well as residential security lighting and automotive headlamps (xenon headlights).

The lamps consist of a small fused quartz or ceramic arc tube which contains the gases and the arc, enclosed inside a larger glass bulb which has a coating to filter out the ultraviolet light produced.[1][3] Like other HID lamps, they operate under high pressure (4 to 20 atmospheres)[1] and require special fixtures to operate safely, as well as an electrical ballast. They also require a warm-up period of several minutes to reach full light output,[2] so they are not typically used for residential room lighting, which is turned off and on frequently.


| | |
| --- | --- |
| Power Output | ANSI Codes |
| 20W | M175 |
| 39W | M130 |
| 50W | M110 |
| 70W | M98, M139, M143 |
| 100W | M90, M140 |
| 150W | M102, M142 |
| 175W | M57, M137 |
| 200W | M136 |
| 250W | M58, M138, M153 |
| 320W | M132, M154 |
| 350W | M131, M171 |
| 400W | M59, M135, M155 |
| 450W | M144 |
| 750W | M149 |
| 1000W | M47, M141 |