WHAT ARE HIGH PRESSURE SODIUM BULBS?
High-pressure sodium (HPS) lamps are part of the family of high intensity light bulbs that put out large amounts of light generally needed for street lighting and security lighting. The combination of metals and gasses within inside the glass tube produces an orange-white light commonly found in street lights. HPS bulbs actually produce a dark pink glow when first struck, and an intense pinkish orange light when warmed.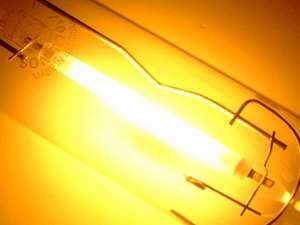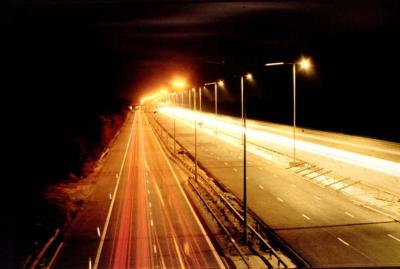 HPS Lamps are favored by indoor gardeners for general growing because of the wide color-temperature spectrum produced and the relatively efficient cost of running the lights.
High pressure sodium lamps are quite efficient—about 100 lumens per watt when measured for photopic lighting conditions. The higher powered versions of 600 Watt have an efficacy of even 150 lumens per watt. Much of this high output is lost to the human eye; because of their amber light color these lamps appear dimmer than they actually are. They are also not good at rendering color making these lamps ineffective for security cameras.
At the end of life, high-pressure sodium lamps exhibit a phenomenon known as cycling, which is caused by a loss of sodium in the arc. When the lamp attempts to start over and over again without success then you know it is time to change the bulb.
HPS bulbs are ballast sensitive meaning that you cannot change the bulb or fixture wattage without changing the ballast. You must stay with your existing bulb unless the ballast is changed. Check your bulb or fixture for one of the ANSI codes below to confirm which wattage bulb you need.
| | |
| --- | --- |
| Power Output | Ansi Codes |
| 35W | S76 |
| 50W | S68 |
| 70W | S62 |
| 100W | S54 |
| 150W | S55 |
| 200W | S66 |
| 250W | S50 |
| 310W | S67 |
| 400W | S51 |
| 600W | S106 |
| 750W | S111 |
| 1000W | S52 |