How to Choose your HID Bulb
HOW TO CHOOSE YOUR HID BULB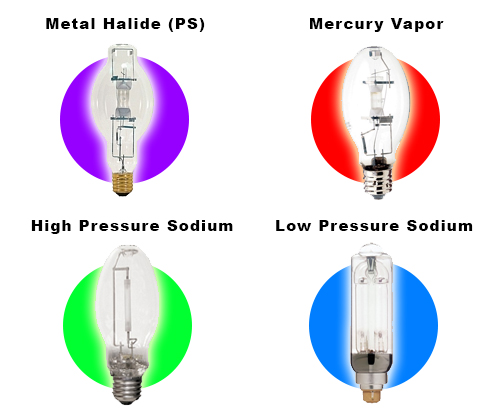 Lamp Selection - Factors to Consider
CRI is a lamps ability to render an objects true color based on a scale of 100, with a 100 being a incandescent lamp.

Mercury Vapor has a CRI of 22-55, Color Temp between 3000-5900K, and light emitted has a bluish-green hue.

Metal halide has a CRI of 65-93, Color Temp between 2900-6000K, and is best the best white light of all HID light sources.

High Pressure Sodium has a CRI of 20-30, Color Temp between 1800-2600K, and gives off a light ranging from an orange hue to a pink hue.

Burning position is a position in which a lamp is designed to operate for maximum performance & safety.

BD - Base Down (bulb is vertically positioned with the metal base at the bottom, glass up)

BU - Base Up (bulb is vertically positioned with the metal base at the top, glass hanging down)

HBU - Base Up +/- 90° (bulb can be operated in a base up or horizontal position)

HOR - Horizontal Burn (bulb is positioned with the metal base parallel to the ground)

U - Universal Burn (bulb can be operated in any position)

Open Vs. Enclosed Fixture Lamps

Open fixture lamps include a glass envelope to protect in the case breakage under high pressures.

In an enclosed fixture lamp, a fixture lens takes place of a glass envelope in an event of breakage.
Probe start technology uses an ignitor inside the lamp to start the lamp.
A pulse start system adds a separate ignitor component that is pared with the ballast rather than inside the lamp. These system changes allow a Pulse start system to provide improved efficiency and performance.
Common benefits of pulse start equipment include:
– Greater efficacy & energy savings
– Superior color rendition
– Improved lumen maintenance
– Reduced color shift over life
– Colder starting temperatures
HID bases are designed by a letter and a number. The number is the diameter of the base by eights of an inch.

The MOL or Maximum Overall Length is measured in inches.

Make sure you check the compatibility of the ballast with your HID lamps.

Mercury lamps are compatible with mercury ballasts and metal halide, but not high pressure sodium.

Metal Halide lamps are only compatible with Metal Halide ballasts.

High Pressure Sodium lamps are only compatible with High Pressure Sodium ballasts.
How to interrupt a HID ordering code MH150/U/MED
MH) Type of HID Metal Halide 150) Watts U)Burn Position Universal MED) Base Medium