HID Light Bulb Components
HID LIGHT BULB COMPONENTS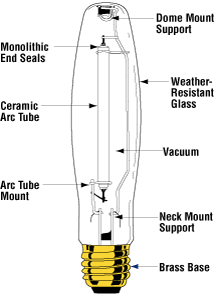 Base is one of the main components of a HID lamp. It serves as the electrical contact.
The stem serves as the passageway to the mount.
Arc Tube is a capsule that gets filled with gas which the electric arc passes through.
The electrical leads bring the current toward the arc tube.
Tungsten Electrodes is the lamp base that serves as the electrical contact.
Outer Bulb made of heat resistant glass, maintains a constant temperature within the lamp and serves as extra protection for the arc tube while absorbing UV radiation emitted from the arc.
Main difference in HID lamp components is the composition Mercury Vapor Arc Tube.
Metal Halide lamps are the most efficient light in the HID family.
High pressure sodium lamps use mercury and sodium vapors which create a yellow tone light.