Halogen Lighting Industry Updates
HALOGEN LIGHTING INDUSTRY UPDATES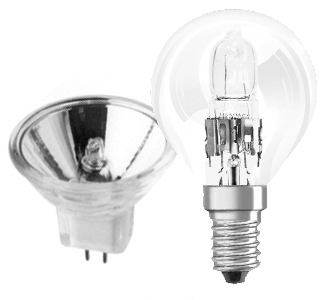 Recently legislation has mandated increased efficiency for halogen lamps. This legislation has effectively discontinued the manufacture of hundreds of common halogen bulbs and or reduced their allowed wattage.
Section 321 of EISA has increased the efficiency by 30% for medium screw base incandescent and Halogen E26 lamps.
General Service purposes
Wattage range = 40-100W
Voltage range = 110-130V
A-shape, globes, chandeliers
Maximum wattage cap for:
Candelabra Base Incandescent E12, Wattage Cap = 60 W
Intermediate Base Incandescent E17, Wattage Cap = 40 W
Exceptions:
Specialty lamps, appliances, black light, bug, and colored lamps.
Section 322 of EISA has increased the minimum Lumens Per Watt for:
Incandescent & Halogen Reflector lamps
BR, ER, BPAR shapes
Diameter range = 2.25" – 2.75" (PAR20 & R20)
Wattage Range = 40W or higher
Exemptions:
65W, BR30, BR40, & ER40 shape lamps
50W or less BR30, BR40, ER30 & ER40 shape lamps
45W or less R20 shape lamps