Top LED Canopy Lights for Wholesale in 2018
Nov 29th 2018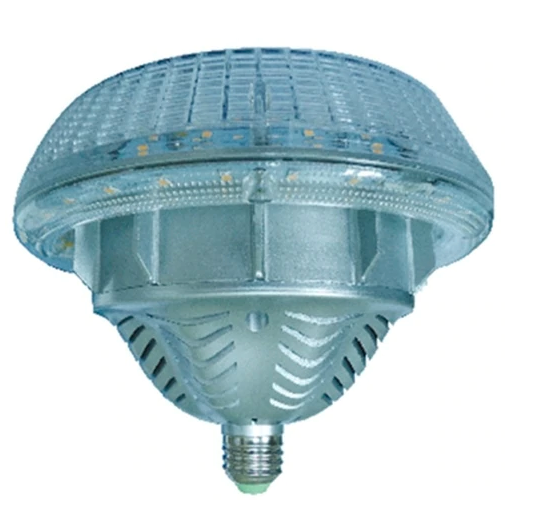 Lighting is essential in all workspaces and finding the right LED canopy light for your garage, warehouse, or storage area can make all the difference. For instance, as a handyman, you may want to consider a light fixture that can illuminate a whole room in order to see all the crevices of your current project or device. LED canopy lights come in all different shapes and sizes to best fit the work area for installation.
LED canopy lights can save you and your company energy by providing high illuminating light requiring only low amounts of energy. With LED light fixtures, you can use up to 80% less electricity to power them while incandescent lights may take up to 5 times more power to produce the same amount of light as an LED bulb.
High Output Retrofit Bulbs
To save energy and money consider purchasing the 60 watt LED retrofit bulb to replace any existing metal halide by simply screwing in the LED retrofit bulb in place.This option is excellent for canopy fixtures, garages, gas stations, and even low bay applications.
The wide, uniform light distribution this bulb features overtake the MH and HPS lamps and use a 120/277 volt bulb which integrates the LED energy saving technology. Our 60 watt LED retrofit bulbs produce the same light output at half the energy costs (120W Fluorescent to 60WLED). The minimal time for installation and lifespan of 50,000 hours results in very low long-term maintenance costs.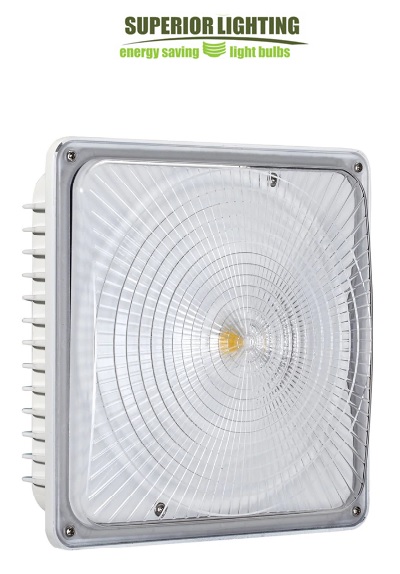 Surface Mount Canopy Fixture
It can be dangerous to walk through a garage,warehouse, or doorway with minimal lighting as loose tools might be scattered or sharp edges jutting out. The 45 watts surface mount LED canopy light provides a long-lasting stream of light with a light distribution of 93 lumens per watt.
The best feature of this canopy light is the lack of bulb replacement. On it's own, it lasts for about 50,000 hours of maintenance-free operation; replace traditional metal halide, fluorescent, and HID fixtures with LED. Switch to our LED canopy light for more energy savings,higher efficiency, and less maintenance on your outdoor ceiling and canopy fixtures. The Surface Mount LED is ideal to light up parking structures, gas stations, convenience stores, covered walkways and aisles, and garages.
Square Induction Canopy Light
If you live somewhere where it tends to rain often or have a workspace that often needs to be washed, the constant moisture can be a challenging space to light. Our 40 watt square induction canopy light is precisely made for wet or damp climates and environments. The fixture is protected with an airtight seal and safety coating for optimum use in garages,canopies, warehouses, building exteriors and pathway lighting where they might be exposed to the elements. Also, induction lamp technology is made to last 100,000 hours, meaning they will easily last over 10 years.
LED Lighting to Enhance Your Work Space
At Superior Lighting, our LED canopy light fixtures offer bright light for any type of space which in return makes it easier for you to work comfortably, safely, and with little fuss. We have only touched on some of the top LED canopy lights Superior Lighting has available, but we also have lighting for outdoor paths, parking lot posts, landscaping lights, floodlights, and more.
Are you ready to find the fixture that is best for you? We have expert representatives ready for contact to discuss any questions or concerns you may have.