Philips Color Kinetics Products: A Superior Lighting Review
May 3rd 2017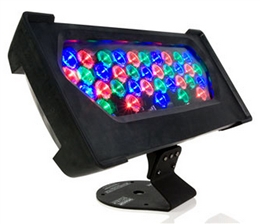 Forget about dimming the lights!
Philips Color Kinetics makes it possible for you to do so much more than simply altering the brightness of the LED light bulbs and fixtures in your home and office. Every color imaginable is in your command: Classic white light is ideal for everyday tasks, like work and cooking, while bright colors, like magenta, blue, or an assortment of colors, can set the mood for important presentations, parties, and other unique occasions.
Here's what we think about Philips Color Kinetics:
Great Reputation
The longevity and reliability of Philips Color Kinetics products has been proven again and again over the past 20 years, and the company continues to show its dedication to innovation by releasing new products and technologies for LED lighting.
There is not a lot Philips Color Kinetics cannot do with light fixtures and colors. The company's products can be found around the globe working to brightly and uniquely illuminate famous landmarks and buildings, like the London Eye and San Francisco's City Hall, in addition to simply brightening up the interiors of structures worldwide.
Philips Color Kinetics Products
Philips Color Kinetics offers a wide array of products, including: 1,400 standard configurations for LED façade lighting, 340 standard configurations for interior linear lighting, and a full range of DMX and Ethernet lighting controllers, video servers, controller accessories, and power/data supplies.
The diversity of applications for Philips Color Kinetics products is simply amazing—for example, their products can be used for simple under-cabinet lighting, subtle accent lighting, or dynamic effect and stage lighting.
Philips Color Kinetics products are available in color changing, tunable white, solid white, and solid color LED luminaires. The high quality and digitally controllable products from Philips Color Kinetics are easy to install, control, and maintain. Philips Color Kinetics can customize beam angles, LED channels, housing colors, and lengths. If you are in need of custom solutions, then Philips Color Kinetics can create unique solutions for your specific lighting design and needs.
Products Last A Long Time
Installations by Philips Color Kinetics last a long time. Some of the installations run continuously—24 hours a day, 7 days a week—and last more than 10 years. The company has a track record of successful installations that has proven the reliability and longevity of its products.
Superior Lighting Supplies Philips Color Kinetics Products
Checkout Superior Lighting's full offering of Philips Color Kinetics products today. Our selection includes:
· Intelliwhite LED Lighting Systems
· RGB Color-Changing LED Lighting Systems
· Philips Vaya LED Luminaries (white, mono, and multi-color)
· Lighting Controllers for PCK lighting system products
On each product page for Philips Color Kinetics products on Superior Lighting's website, you can learn more about each product. If you have specific questions, then do not hesitate to get in touch with our team.
Contact Superior Lighting
Call us today at 1-888-577-1894 or fill out our online contact form.