Office Lighting: LED Replacements for Wholesale Buyers
Oct 2nd 2018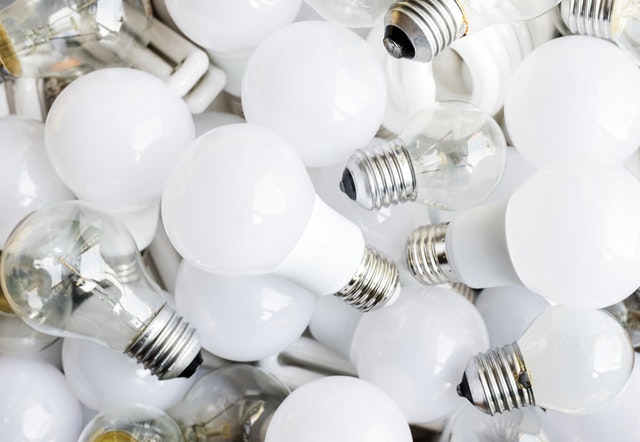 If there's one tag line that's used more often than most, it's "the more you spend, the more you save." While this is usually just an attempt by retailers to get their customers to spend more, when it comes to wholesale purchasing, it's perfectly valid.
If your company has large office premises, then you probably shudder at your lighting costs. Offices are big places, and no matter how many windows you may have, natural light tends not to penetrate too far. Office spaces need to be well lit so that people are able to concentrate on their work without eyestrain.
A lot of lighting of course means a lot of lights. Fluorescent bulbs have been the go-to solution in such spaces for many years, as they are more cost-effective than incandescent bulbs. However, there is a new act in town when it comes to office lighting – LEDs.
Benefits of LED Replacements
Fluorescent bulbs rely on gas in order to produce light, whereas LEDs rely on power that's converted into light energy via devices known as diodes. There are plenty of other differences too, but these are the two main differences that office lighting providers find especially appealing in relation to LED lighting:
LEDs are much cheaper to run than fluorescent bulbs
LEDs last much longer than fluorescent bulbs
Switching from fluorescent bulbs to their LED counterparts will save any major office a great deal of money when it comes to lighting – money that can be redirected to other areas of your business that hopefully will increase your profit margins.
You can make the switch from fluorescent to LEDs on a bulb-by-bulb basis, but it will pay for you to get ahead of the game by purchasing your bulbs wholesale. Purchasing wholesale will save your supplier time and money, as wholesale purchases can be selected and dispatched much more easily than a large number of single purchases. Wholesalers also do not have to maintain a showroom-style retail premises. Most wholesalers will pass a percentage of these savings onto you, the buyer.
LEDs can replace fluorescent bulbs directly meaning you usually won't need to make modifications to your lighting fixtures. It's simply a case of popping out a dead fluorescent bulb and popping in an LED one when the time comes.
The team here at Superior Lighting can supply you with a wide range of 'ready to replace' LED lighting tubes, and – if you'd prefer – on a wholesale basis depending upon the size of your order. There is no need to specify which as all our LED tubes are provided on a 'ready to replace' basis that means you will not have to change or upgrade your existing lighting fixtures.
The majority of our LED fluorescent tube replacements uses less than half of the energy of their traditional fluorescent counterparts, and will provide light for at least 50,000 hours.
You can contact us at any time to understand how you can replace your existing fluorescent bulbs with their energy-efficient, long-lasting LED equivalents. Simply call us today at 1-888-577-1894, or use the Online Contact Form that's available to you on our website.