LED Shop Light Fixture That Will Lower Your Energy Costs
Dec 29th 2017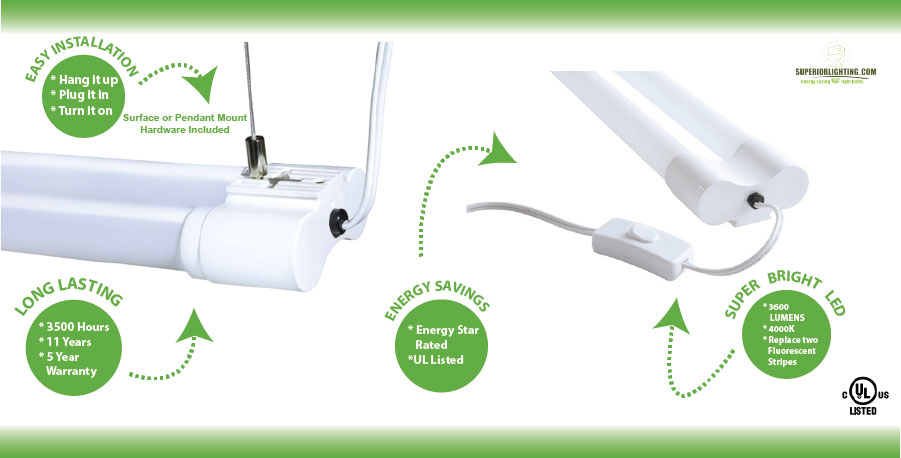 When running a business, finding new ways to lower your costs without reducing the quality of your products and services is always important. One easy way in which you can do this is to install energy-efficient LED lighting solutions within your shop, manufacturing facility, or warehouse.
The Benefits of LED Lighting Fixtures
U.S. government studies have shown that LED lights can consume up to 75% less energy and last 25 times longer than incandescent lighting in some cases. On average, these lights last at least twice as long for high energy consumers and use 50% less electricity.
LEDs are highly efficient light sources that come with many advantages for business owners, a few of which include:
· Lower maintenance costs
· Better performance in colder temperatures compared to incandescent lights
· Remarkable durability due to no filaments or glass enclosures
· Increased safety for workers with a non-toxic design free from mercury and lead
· Lower operating costs from less energy expenditures
In addition to this, LEDs have the ability to remain unaffected by constant on and off light cycling compared to traditional lighting solutions.
High-Quality LED Shop Lights that Lower Operating Costs
When looking for the right LED shop light for your business, there are 2 cost-effective, bright, top-rated LED shop lights on our website that you should consider:
· The LED Open Strip Garage Shop Light Fixture
· The LED Linear High Bay Lighting Fixtures
Both lighting solutions are incredibly energy-efficient and are easy to install with chain mount or ceiling mount options available.
The LED Open Strip Garage Shop Light Fixture
This LED Shop Light Open Strip Light Fixture is ideal for workshops, utility rooms, and closets. These LEDs can replace up to 4 bulb fluorescent strip lighting fixtures. The LED Open Strip Garage Shop Light Fixture comes with many advantages to businesses, including:
· A high-performance LED tube that can last for 35,000 hours
· No required light bulbs or ballasts that need changing
· A UL Listing
· An Energy Star rating
It is ideal for medium to high illumination level lighting.
The LED Linear High Bay Lighting Fixtures
The LED Linear High Bay Lighting Fixtures is ideal for replacing conventional fluorescent lighting in warehouses and other large spaces. For commercial spaces, these lights offer many benefits, in addition to the previously mentioned advantages of LED lighting. These include:
· An energy savings of up to 80% on your next electrical bill
· Superior coverage on 15-foot to 50-foot ceilings compared to conventional options
· Easy mounting options with a V-hook and chain included and optional pendant
· A 5-year limited system warranty standard
· Unmatched visibility
Purchase Energy-Efficient LED Shop Light Fixtures Today and Start Saving on Your Energy Bills
The advantages in buying environmentally-friendly, cost-effective LED shop light fixtures are clear. Depending upon the size of your business facilities, we recommend choosing either the LED Open Strip Garage Shop Light Fixture or the LED Linear High Bay Lighting Fixtures on our website at Superior Lighting. With the amount of money you will be saving each month on your energy bills, we know you won't regret this decision.
If you have any questions at all about LED shop lights or any of our other energy-efficient lighting solutions, feel free to reach out to us any time at 1-800-545-7778 or by filling out our online contact form.