Exterior Lighting Design Examples for Commercial Properties
Aug 2nd 2018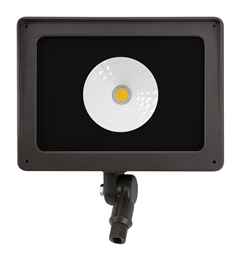 When owning a commercial property, you may not often be thinking about the finer details such as the lighting around your property. The importance of effective lighting, however, is something that often goes under appreciated. So, if you've recently purchased a commercial property or are looking to enhance the lighting on your existing commercial property, our team at Superior Lighting has some exterior lighting design examples to share.
LED Landscape Lights
To enhance the security on your property, it's important to have exterior landscape lighting around your property when you're not around. A property that is lit throughout the night is less likely to be burglarized when compared to a commercial property without exterior lighting. Whether you'd prefer to illuminate your actual landscape, garden, walls or parking lot, we've got you covered. Some of our most popular LED landscape lights that our clients often purchase include the LED Landscape Flood Light, the LED Path Bollard Light or the LED Wide Flood Lights, 15W-300W.
LED Parking Lights

It's important for your clients and customers to feel safe while visiting your property, especially at night. So, if your existing commercial parking lot lacks good lighting, it's time to partner with Superior Lighting. We can get you access to brand name LED parking lights at affordable prices. When it comes to choosing LED parking light fixtures for your commercial property, you can't go wrong with the following options:
LED Office Lighting

Have your employees complained about the poor lighting around your commercial property? If so, it may be time for you to get rid of those old fluorescent lighting fixtures and invest in efficient and bright LED lighting. At Superior Lighting, we offer a wide range of LED office lighting. Some choose to invest in the LED Flat Panel Fixture while others choose a LED Suspended Square Office Light.
LED Shop Lights
For those individuals that own a commercial auto shop, lighting is extremely important. You need sufficient light so that you can focus on the finer details of the auto work that you're completing. At Superior Lighting, we offer long-lasting and easy to install LED shop lights designed to brighten up your auto shop. Choose between our LED Shop Light Fixture or the Heavy Duty 20 Gauge Sheet Metal Construction Shop Light.
As a commercial property owner, don't underestimate the importance of exterior lighting. Rather than continuing to invest in traditional fluorescent lighting that doesn't last as long, it's time to look into LED exterior lighting design examples from our dedicated crew at Superior Lighting. Whether you're looking specifically to invest in lighting for your landscape, parking lot, office or auto shop, we've got some great design examples for you to evaluate. To learn more about the exterior lighting design options that you have for your commercial property, give us a call today at 1-800-545-7778. Set up a business account with us today to take advantage of priority service and special pricing.