HIGH VISIBILITY LED DUSK TO DAWN LED ROADWAY LIGHT WITH PHOTO CELL UP TO 6650 LUMENS
Keep your property secure with these ultra-bright security lights, designed to save on electricity bills while providing exceptional surface coverage
Plenty of things go bump in the night and when you're protecting valuable property a dusk to dawn LED security light offers a practical solution, easily replacing more traditional 175 Watt metal halide lights.
When mounted at a height of 12, 30 feet, this LED yard light provides up to 76,000 hours of light without need for regular maintenance and with a polyester finish, protection against storms and corrosion comes included. In short, this LED light will provide security for both residential and commercial properties from dusk to dawn.
Shop or Backyard LED Dusk to Dawn Lighting
Tired of peering into the darkness every time you hear a strange noise in your yard The powerful Dusk to Dawn LED light provides outdoor security every night with a powerful light that makes everything plain as day. With nooks, crannies and stacks of products everywhere, commercial shop yards are traditionally hard to light well not anymore now you can you see what you're doing at night and your security team can keep a closer eye on stock.
Barn and Garage LED Dusk to Dawn Lighting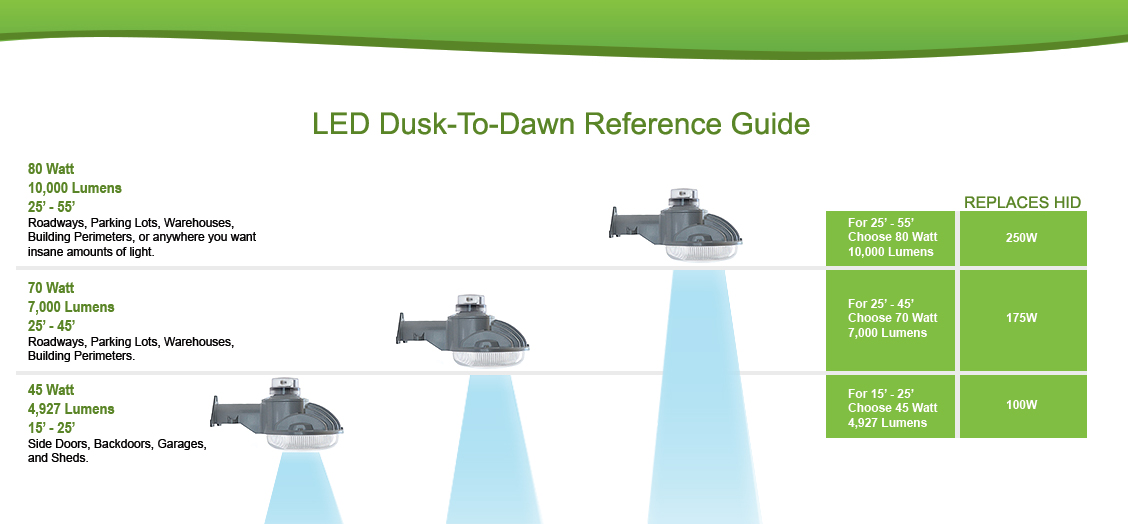 You probably get up before the crack of dawn and work hard all day so take a break and rely on the Dusk to Dawn LED barn light to keep you covered when you retire for the night. This light is built tough and heavy made from thick, die cast aluminum, a crack resistant lens and an LED made to last for 76,000 hours of use. With this crisp and bright LED barn/warehouse light your building perimeters will be well lit all night.
Alleyway LED Dusk to Dawn Lighting
Dark alleyways are a menace to public safety with LED security lights available from dusk to dawn, you can ensure that criminal elements stay away, hidden in the dark where the powerful 30, 50, and 70 Watt light won't shine a light to their faces.
Roadway LED Dusk to Dawn Lighting
A poorly-lit private road can cause accidents and for businesses at the end of a long private road, a badly-lit road can mean invisibility to potential customers. With these bright LED roadway lights, visibility is restored between dusk and dawn. Great for small parking lots as well.
Light up the night with these powerful dusk to dawn LED light fixtures today?order now to enjoy fast shipping and our 5-year warranty!